Fated to Love You 命中注定我愛你, also known as You're My Destiny, Sticky Note Girl or Destiny Love is a Taiwanese romantic comedy which aired on March 16, 2008. Chen Chin Yi an unfashionable, pushover girl as she was called "Sticky Note Girl" decided to tie down his womanizing boyfriend in a
cruise
. Due to mishaps or by "Fate" she ended up in bed on Ji Cun Xi's cabin who at that time is expecting Anna, his long time girlfriend. They ended up tying the knot because of the one night stand which resulted on Chen Xin Yi getting pregnant. The story evolves on how each of them struggles in facing the fact they are falling for each other despite their fixed marriage agreement.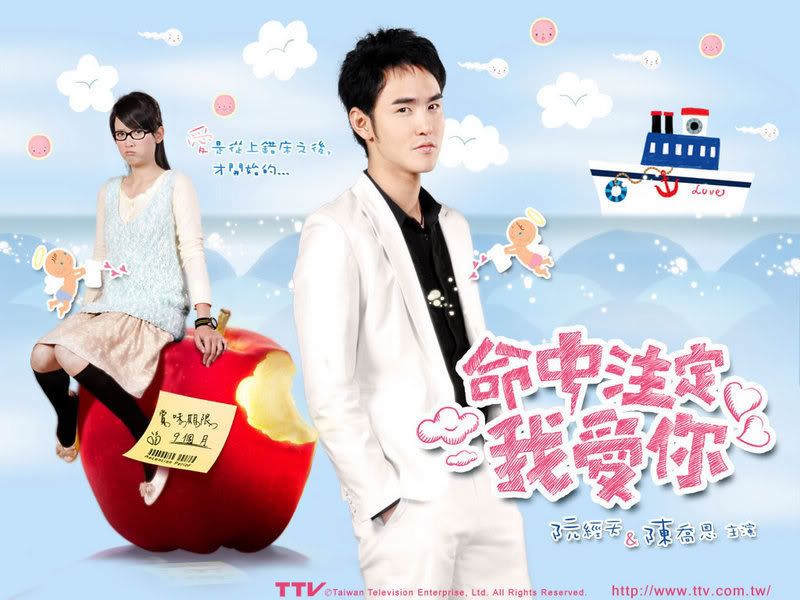 Genre: Romance/Comedy, Origin: Taiwan, Episodes:24, Originally Aired:TTV/Sanlih E-Television, Year:2008
Main Cast:
Chen Qiao En as Chen Xin Yi 陳欣怡/Elaine (Cindy Chen/Cindy Ji)
Ethan Ruan as Ji Cun Xi 紀存希 (Steven Ji), Ji Ancestors
Baron Chen (陳楚河) as Dylan/Dai Jian Ren 戴建仁 (Dylan/Kenneth Dai)
Bianca Bai as Shi An Na/Dai Xin Yi 石安娜/戴欣怡(Anna Shi/Cindy Dai)
Trivia:
- It's peak rating was on the 2oth episode entitled "A love confession that leaps over 2 years time".
- GMA 7 Network , Philippines bought the rights to remake the show which premiered on February 16, 2009.
- On FTLY's 17th episode "Lose Control" on which they are about to film a kissing scene, someone bought barbeque to visit and watch the filming. Qiao En and Ethan were afraid that the crew will finish all the food, they quickly gobbled down a few stick. The mutton taste was stuck in their mouth and didn't disappear.
You can watch FTLY English subbed episodes here.
http://www.mysoju.com/fated-to-love-you
http://www.veoh.com/users/randomfs
I also found some Episode summaries here.
http://iurgnotmis.wordpress.com/category/cdrama/fated-to-love-you-cdrama